This is a transcript of an episode of Aquarian Diary I published on September 17, 2022. The full episode title is:
Swords vs Torches: November 8, 2022 Full Lunar Eclipse, the US Midterm Elections and the Timeline Split.

Welcome to Aquarian Diary where we discuss issues around the emerging Age of Aquarius. I'm your host John Irving. Thank you for joining me.
Greetings all it is Saturday September 17th, 2022.
This is incredibly fascinating and interesting and dramatic, what I want to talk about here.
So Wednesday night – late Wednesday night – which was the 14th of September – after spiritual practice I just had this sudden very short but dramatic download. And it went like this. I got that there was a big shift coming soon, a major shift. I asked when. The answer was November. And then I got to try and keep myself in a positive state, between now and then as much as possible, because I want to make this shift that's going to occur. Implying that there is a split – two courses, two paths, and I want to take the higher path. I always have been working towards that for many years.
So I was like whoa – this is intense. And I thought I should post something about this, and then I hesitated because of course my ego, my intellect, was saying well what if you're wrong? So then Friday September 16th late at night I post on my community tab about what happened and explaining this big shift. Just because I, in the past, have hesitated to do these kinds of things and then later on they proved to be right and I regret not commenting about it or sharing it.
So I was in the mood and I was just kind of like what the hell, I'm putting it out there. And I asked people to let me know if they had come across any other sources who were saying something similar because this is quite dramatic. And of course, I have also done a whole episode titled The Great 2020's Timeline Split which kind of talked about what Dolores Cannon spoke about through her work, where there would be this split, this timeline split, that would occur in the early 2020's.
Now I haven't really been paying much attention to the mundane astrology, or the astrology that's going on for the world right now, just because I've been really busy. And there's been so much coming up in my own spiritual work that it has kept me more than preoccupied. The amount of stuff that's been coming up for me that I've been dealing with lately has just been like it's incredible. Day to day. So yeah I posted on my community tab about this event that I foresee or was told about occurring in November.
And then this morning, September 17th, Saturday early morning, I wake up early and I look more closely at the astrology. And oh my God there's this eclipse coming up, this full lunar eclipse in Taurus, that is occurring on November 8th, which happens to be the exact same day as the US midterm elections. Now I knew about this but it was kind of in the back of my mind. So this morning I look more closely at this eclipse and I'm like oh my God this is a really powerful eclipse.
The way eclipses work is that we kind of experience them or start to feel them up to three months in advance and then it takes up to six months for for all these energies to be integrated. A full lunar eclipse is basically a full Moon on steroids because what's happening is that the Sun and the Moon are in close proximity to the lunar nodes that are transiting, and that's what makes an eclipse. So like I said, a full Moon on steroids.
The full Moon is closely aligned with the North Node in this case, in Taurus. And the South Node and Sun are in Scorpio. Now in this case in Scorpio or aligned with the Sun and the South Node is Mercury and Venus. And very closely conjunct with the North Node and the Moon in Taurus is Uranus which is squaring Saturn in Aquarius.
I could do a whole hour-long episode just on this eclipse. That's not really my intent. I'll give you the summary of it like this… We have like a super moon, super full moon, in Taurus. And Taurus rules things like our values and it is often related to possessions and things that we own. And property and money and real estate. Because that's how we materially express our values is through our property. That's why it's related to values. It's ruled by Venus (Taurus).
In Scorpio where all this South Node stuff is going on, with the Sun and Mercury and Venus. Scorpio is the most intense, by far, of the zodiac signs because it deals with a lot of, often, a lot of drama that is interpersonally related. Because relationships are like the stage on which we confront other people and other people confront us, about our psychology, and ultimately how we perceive the world. So there can be a lot of drama in Scorpio around interpersonal relationships. Scorpio follows the sign of Libra and Libra is where we form close intimate relationships with people. So Scorpio is kind of the battleground for relationships. And a lot of our relationship behavior is governed by past lives and traumas and things that have happened to us that we have to process, or the shadow work that we have to do, and it's a dramatic energy.
So Uranus is within a degree of this full Moon lunar eclipse. And Uranus can break up, if not shatter, existing structures and ways of being, and ways of thinking and paradigms and realities and relationships. If people go through a major hard Uranus transit often there can be a sudden and dramatic break with the past and it seems to be coming from the outside like there are forces that cause our whole reality to shift suddenly and dramatically. And it can happen very quickly. Like on a specific date something will happen and you weren't expecting it. It's almost always never fully expected or appreciated until it happens. It can come out of the blue.
And so this energy is being hugely amplified by this full Moon lunar eclipse. So something dramatic and major is going to shift and it's going to be big, and it will forever change… it'll be like a course-changing event. A pinpoint in time where suddenly everything is different. And it'll be something that nobody really fully expected or anticipated, or even possibly imagined.
That full lunar eclipse that's conjunct Uranus and Taurus is squaring Saturn in Aquarius. And Saturn – and especially because it's in Aquarius – Aquarius governs society and societal level stuff. And Saturn represents the institutions and structures that we have created, and the leadership… you know things like government, governmental leaders, politicians, banks, large significant institutions that affect society, that tend to be rigid and structured. Because they need to persist over many years, if not even generations, because they have to be reliable. But in this case Uranus is coming in and delivering a sharp square to those structures and institutions and rigid sets of beliefs that have served us because it's time for them to really be changed. And they need almost like a lightning bolt level blast to break them up to change those structures. Because on some level they are no longer serving us or they've become obsolete or redundant or they need to be dramatically changed or revolutionized.
Now Uranus is the ruling planet of Aquarius and Uranus is going to be playing a huge… this kind of energy is going to be playing a huge role in the Aquarian Age. And I've done a whole video on that which I really get into in the one called Pluto in Aquarius, Dawn of Global Consciousness, so I'm not going to go into that in a great level of detail here. The main thing is is that what we can expect is this deals with our values. It may manifest as shifts in reality that alter our understanding of what we value and literally the physical material reflection of that in banking and finance and institutions and real estate and property. And on the other side of the equation is all of the psychology and the trauma and the intense experiences that kind of shape our reality. The South Node, Mercury the Sun and Venus are all in opposition to this full Moon.
Again I could spend an hour at least talking about this. But the main point is just that there is going to be… this is extremely dramatic. It's occurring on the same day as the US midterm elections which will define whether or not America becomes a fascist autocracy, if not theocracy, a criminally organized government which would totally change the history of planet earth, or not. And this connects to the download that I got on Wednesday night about this huge shift coming because Uranus represents dramatic and sudden shifts and departures, if not splits. Splits! Think of timeline splits. And these highly amplified energies of this full Moon lunar eclipse are challenging the status quo that governs society. It's a direct challenge.
Amazingly the Sabian symbol for 16 degrees of Taurus, where this lunar eclipse is occurring, this powerful lunar eclipse, reads "A symbolic battle between swords and torches." To me swords represent truth (strong energy) and torches is fire which wants to burn things down. It's a nihilism basically. And this image of swords versus torches perfectly describes what's going on in the world. Reason and truth versus passion and anger and fire and destruction. You couldn't make this up. It's just incredible.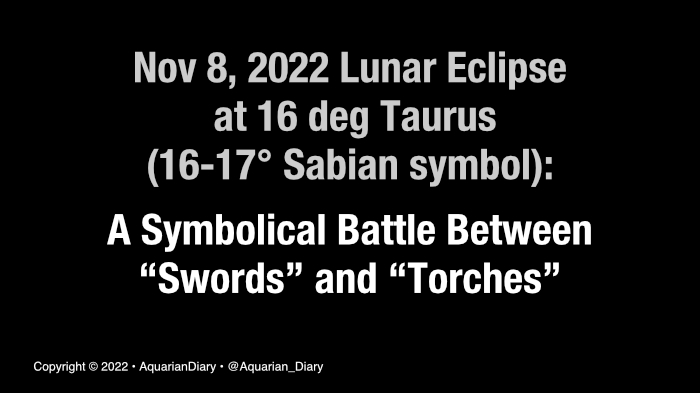 Now the Sabian symbols are very subject to interpretation. You will find a lot of various interpretations for these symbols and they can vary a lot. So that's my interpretation based on the context politically and socially right now, and the major struggles that we are involved in and encountering. From my perspective we really are at a critical juncture in a fight between light and dark, good and evil, right and wrong, what's best for everyone and what's best for some people, etc. So again this is my interpretation. You may interpret it differently.
Now a few months later Pluto will move into Aquarius. Again see my episode on Pluto in Aquarius. I'll link some of this in the description. But incredibly I have this download. I haven't been paying attention to the astrology, I look at the astrology and go like holy crap it's right there. It's November 8th. And I said last night on my community tab that this was going to occur in November and I haven't been paying attention to the astrology but it's all right there.
Now the next solar eclipse [after November]… the next eclipse will be a solar eclipse and that is going to be occurring on April 20th of 2023. This is just after Pluto has moved into Aquarius. Pluto is at zero degrees Aquarius at this point, for the first time in like 250 years. This eclipse on April 20th is going to be at 29° 50′ of Aries. That is an Anaretic degree, an extremely potent and powerful degree of Aries. And Aries is a powerful sign to begin with, it's Cardinal. And it is the sign of new beginnings. So the next solar eclipse is at literally the very, very, very end of Aries. That's going to be extremely powerful too. That's new beginnings.
But also see my episode that I did on the 2020's timeline split. Again I'll link that in the description. This to me is just all astonishing because like I said I had this download but I didn't connect it to the astrology because I hadn't really looked at this November eclipse. I don't know why I've just been really busy and preoccupied and I haven't had a lot of time to record lately. It's astonishing.
I was shown about a week ago – this is before I had the download about November – I was shown very clearly how when I concentrate on all this negative stuff that's happening in the world how it shifts my consciousness and my energetic state. I'm insatiably curious about what's happening in the world so you know I do read. And I want to know what's happening and why. But it was kind of a warning just to manage that carefully. You want to, I think, maintain a positive state as much as possible leading up to November. And probably the the point in time will be November 8th. And that might be because we want to be in a higher state to make this shift into the higher timeline. If we're going to go through a timeline split, and my download is right, and the astrology is right, this is when it's going to happen. November 8th 2022. Mark your calendars. Tell the people that you love to do their shadow work, to clear themselves.
In my spiritual practice lately – this has just come up for me intuitively over the past month or so – but I've been doing a lot of forgiving and letting go of people and the past and past events past traumas just letting go of the past. I recently did a cord cutting which I hadn't done in a very long time that was extremely powerful. I felt a huge shift in my energy. Let go of as much as you can. Lighten your load.
And I believe I was told Wednesday night about this… they were basically warning me, not warning me like I'm not in danger, but just saying, you know, this is a very important time. There's going to be a huge shift in November. Prepare yourself for that and be in the right state of mind.
Dolores Cannon said that we needed to not be in a fear-based paradigm, which I think we can argue that a lot of the people on the right of the political spectrum are very much so. And we also needed to clear our karma in order to make the shift into the higher timeline. I did a video about that just a month or two ago about describing how I, through a lot of intense spiritual work, I had cleared my karma.
I have to say something else as well which is it's kind of personal but it's one of the things I've been struggling with. You know years ago I thought oh I should do an astrology channel, it'll be really popular. I could see that coming and then I thought no that would be redundant. To me the thought of doing something to pander to people's sensibilities or to be popular, with that as my agenda, I honestly find it revolting. I just can't… I can't… I couldn't do it. It wouldn't be authentic for me.
Like obviously I want to make a difference and I want to reach people and I want to speak the truth and I want to… I would like to be able to say things that are important that make a difference, that make the world a better place. That help us understand what's happening, that help me understand what's happening, and to connect with other people of like mind and like spirit.
And I've really struggled because obviously I don't have a lot of viewers and I could – because I know what to do or I know what I should do if that was my agenda – but that is not my agenda. I really don't give a crap about that. And I think that that is actually a quality of Aquarius. Aquarius does its own thing and it doesn't really give a crap about what other people think. And in fact I've been guided very powerfully not to care about what other people think. Like that's part of my raison d'etre in this lifetime. Is to just be myself and do my own thing (I'm getting strong energy here).
So yeah, like I said I could do stuff that would be a lot more popular than what I'm doing now but to me it wouldn't be authentic or it would be pandering to popularity. And that's not to say that everything that's popular is garbage, it isn't. But the truth is is that in all fields more often than not you find the people who are saying or doing the really important things aren't often the center of attention. The most popular stuff is not necessarily the most important stuff, or the deepest stuff.

Anyway I wanted to express that. I want it to be on the record and I think it's important for other people to realize that too. The age that we're moving into is going to be like the most authentic people are going to come to the fore. The ones who are following their true heart and their true inspiration and not really caring too much about whether it's popular or not.
Oh by the way in a prior episode I said that my twitter handle was AquarianDiary it's actually @Aquarian_Diary (with an underscore). I post more prolifically there stuff that I'm reading.
I also added a feature to my website at aquariandiary.com where people can basically just join a contact list so that we don't lose touch if anything major happens or changes with this platform or others. And numerous people have used that, thank you. I'm not going to spam that list in any way it's just for safe keeping in the event that it's needed.
Thanks for everything! I appreciate it. And we'll talk to you soon.
You can find a full list of my episodes here.